We're a family run business and our goal is to have happy customers, we will always put our client's first and do our best to make sure we provide the highest standards of customer service. But don't just take our word for it, take a look at the reviews some of our clients have been kind enough to leave.
When people visit our showroom, they are surprised and amazed at the quality and prices of our hot tubs. Getting them home is even better, and people are overjoyed at their new hot tubs. We get thank-you cards, letters and emails from clients who either needed guidance in choosing the hot tub, or didn't expect to be so well looked-after before, during and after their purchase. We thought we'd share just a few testimonials from our lovely customers:
A big Thank you to Sam at Oasis Hot Tubs. She answered all my millions of questions and provided me with the details I needed to make an informed decision on what Spa would be best for us.

The Spa had to be delivered and Installed via Crane, which was quite daunting, but Sam arranged everything and the process was hassle free. I've been very pleased with the Service and helpfulness of Everyone involved. I would definitely recommend using Oasis.Mr and Mrs Bell from Sevenoaks, Kent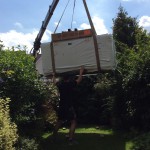 We are extremely pleased with the Prestige hot tub, and the way that the Oasis team handled the installation and after care. We would highly recommend the Prestige as a great 6-seater hot tub, we love the adjustable jets, lights and sound system, and the heating is very efficient. The Oasis team have been professional, helpful and courteous throughout, and made the whole process very simple. Beth from Canterbury, Kent
I recently purchased the spa. It was daunting as I didn't know anything about it! The lady Sam put me at ease and I purchased the spa 10 mins after I visited the showroom. The team for installation was excellent with everything fitted the way I wanted. The after service was the most amazing part as nothing was too much for them! I must admit that I did phone them at least once a day during the first two weeks and each every time they solved my problem. I thoroughly enjoy the spa and would recommend this establishment. 10 out 10! Cynthia from Margate, Kent
A big thank you to Sam at Oasis Pools and Hot Tubs for helping us choose our Vita Spa Prestige hot tub which was recently installed at our home. After months of searching various suppliers and wet-testing of tubs, at the last moment we heard on our local radio an advertisement for Oasis Pools and paid a visit to their showroom near Eastry the same day. We walked into the showroom and were amazed at the tubs on display and the quality of them compared to what we had seen at other dealers. We looked at the Prestige and instantly fell in love with it and when we looked at the price, we were amazed. Originally, we were going to try the tub after returning from holiday, but in the end, we tried before and decided to get the ball rolling on our purchase. Some ground work was needed and electrical work, so Sam suggested trying the sister company P. A. Hollingsworth for a quote. Contact was made with Peter Hollingsworth and a site visit booked for a quote to do the work. When we received the quote which was very competitive to others, the go-ahead was given and after 2 weeks we had brick layers and an electrician on site and within 3 days the site was ready to receive our new hot tub. We are truly impressed with the service and quality of work done and would readily recommend these 2 companies to any one considering having a swimming pool or hot tub installed in this area of Kent. Mr. & Mrs Trinder from Margate, Kent
To learn more, why not call us on 01304 619 705, visit our hot tubs in Kent showroom to learn more or contact us today.