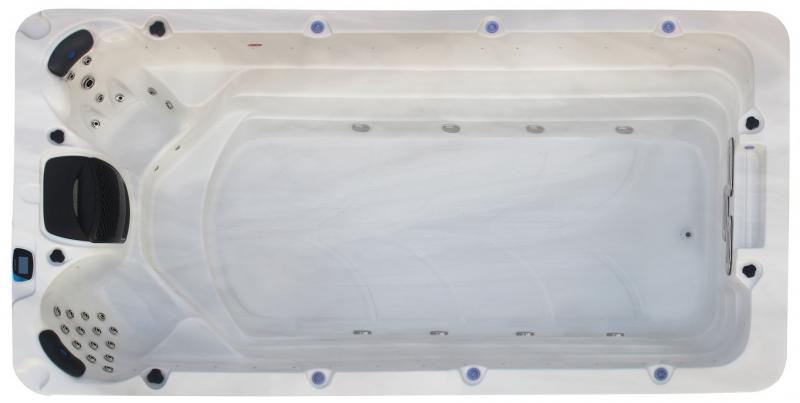 2 people
£19,995.00
430 x 225 x 145 cm





Rarely will you find such a high quality swim spa for under £20k!
Swimming, exercise, relaxation or just a place to hang out with family and friends; the Nassau extra deep swim spa has it all. Three perfectly positioned river jets provide a powerful but adjustable current to swim against, ideal for beginners and good swimmers alike.
At the other end of the swim spa, you'll find two scuplted massage seats with 32 soothing jets. The 32 pulsar adjustable jets are powered by their own dedicated pump, giving you a wonderful post-workout hydrotherapy experience.
So turn up the bluetooth sound system, invite the family in, and relax…
Included in the low price is the high quality service you can expect from us. We put our customers first and we are so proud of our 5 star reviews. We're not just another online retailer; we have been constructing swimming pools and supplying hot tubs and swim spas for years. So relax safe in the knowledge that should anything go wrong we'll send one of our own engineers round to help in a flash. Even if you just need a bit more help or guidance.
Try this extra deep swim spa out for yourself at our Kent Swim Spa showroom or contact us for more information. Finance available.
Key Features
2 Seats
Bluetooth Stereo System
3 x 3HP Swim Pumps
1 x 2HP Massage Pump
1 x Low Flow Circulation Pump
32 Pulsar Adjustable Jets
Easy To Use Topside Controls
LED lighting
Fountain Jets
Steel Frame Construction
High Tensile Strength Base
Maintenance Free Cabinet
Ozonator
Black Vinyl Premium Cover
2 Year Warranty
55 amp Power Supply