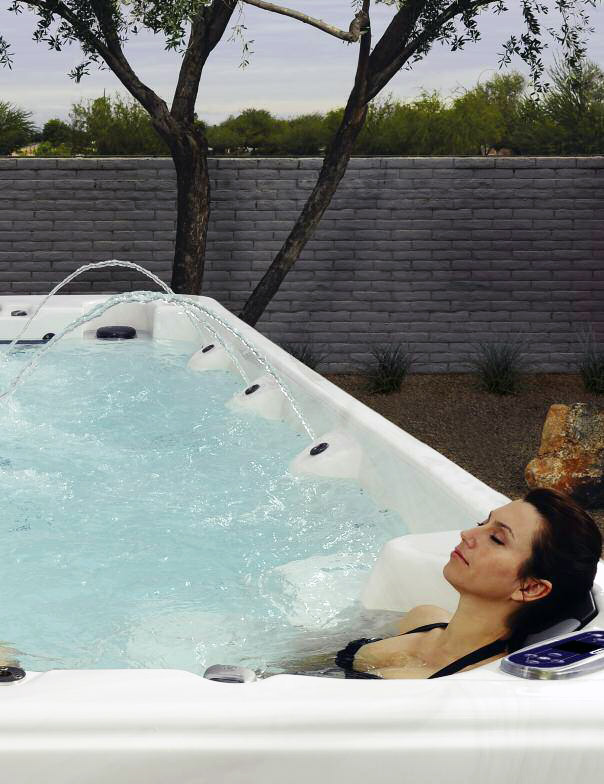 Owning a Vita Spa Swim Spa is like having a swimming pool and hot tub combined. With a powerful but adjustable stream of water to swim against and blissful hydrotherapy areas, you can enjoy the best of both worlds with your new Swim Spa. Our Xstream swim spas with anti-turbulence technology truly are a cut above the rest. Our swim spas are constructed with a steel frame that's 250% stronger than wood yet 40% lighter, MP3 music and subwoofer as standard, and Vita Spa's unique, money-saving appliance-grade insulation. Don't even consider buying a swim spa without checking out our range first. Visit our swim spa Kent showroom to try before you buy, you'll be blown away by the quality and value for money we offer. Low deposit finance available, ask in store for details.
Swim Spa Features:
Toning and Sculpting – optional exercise equipment package
Swim Training – water propulsion system and well-marked swim lanes
Aerobic training – low-impact, highly effective aqua jogging and more
Flow and Jet-Power – offering strategic resistance-training for effective workouts
Each Swim Spa in the outstanding Vita Spa Xstream Swim Spas has been developed with usability in mind, combining the best aspects of pools, hot tubs, and home gyms. From smaller 12ft party swim spas to huge 16ft swim spas with optional packages, there's sure to be a swim spa that suits your needs.
We can deliver your new swim spa anywhere in Kent, we can even supply the base and electrical upgrades if needed. All you need to do is decide whether you want to invite your friends and family round to try it out or enjoy a solitary soak. Holiday at home with Oasis Swimming Pools in Kent.
To learn more, why not call us on 01304 619 705, visit our hot tub and swim spa Kent showroom to try before you buy or contact us today! We have wet testing facilities available with at least one hot tub and a swim spa to try out at any time, if you have an idea of which hot tub or swim spa you'd like to test, get in touch and we'll make sure it's hot and bubbly for your arrival.
Vita Xstream Swim Spas