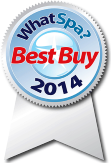 £29,995.00
580 x 220 x 147 cm




The Andros Dual Swim Spa/Hot Tub Combination
The best of both worlds – the Andros swim spa is a dual temperature swim spa with two areas; one for swimming and the other a luxurious hot tub. Having these two areas seperate allows you to have the hot tub at a toasty warm temperature, whilst keeping the swimming pool warm enough for comfort but not too hot for a good swimming/workout session. A very elegent solution to the question 'should I have a swim spa or a hot tub?', at a very very reasonable price for a swim spa under £30k to boot!
On the hot tub side of things we've got a luxurious spa complete with 4 seats including two deep captain's chairs and a lounger. In the swimming area there are 3 additional seats as well as safety entry steps. But the really exciting feature here is the fully adjustable current powered by 3 large river jets, which create a powerful flow of water to swim against. Don't worry if you're not a strong swimmer, the flow is adjustable to suit and swimmer style and ability. So have a low flow for the kids, while you relax in the spa area; then whack up the power when it's your turn for a proper work out! When we say the Andros dual swim spa is the best of both worlds, we really mean it.
Our Reef spas are created with useability and great construction in mind. The heat lock insulation system recycles heat naturally generated by the pumps, and traps it into an inner heat layer between the spa shell and the outer wall. The high strength ABS base prevents damp and cold from the floor below. The outer cabinets are constructed with much thicker panels than most other spa brands which also aides heat entrapment. All this means lower running costs for you!
Why buy from Oasis
Included in the low price is the high quality service you can expect from us. We put our customers first and we are so proud of our 5 star reviews. We're not just another online retailer; we have been constructing swimming pools and supplying hot tubs and swim spas for years. So relax safe in the knowledge that should anything go wrong we'll send one of our own engineers round to help in a flash. Even if you just need a bit more help or guidance.
Experience the quality for yourself at our Kent Swim Spa showroom or contact us for more information. Finance available.
Key Features
7 Seats
Bluetooth Music System
3 x 3HP Swim Pumps
3 x 2HP Massage Pump
1 x Low Flow Circulation Pump
1x Hydrotherapy Air Blower
82 Pulsar Adjustable Jets
3x River Swim Jets
Balboa Topside Controls
LED lighting
Fountain Jets
Steel Frame Construction
High Tensile Strength Base
Maintenance Free Cabinet
Ozonator
Black Vinyl Premium Cover
2 Year Warranty
Swim Area – 40 Amps / Spa Area – 32 Amps
Weight: 1,550kgs
Litres: 5,600L (Swim Spa) 960L (Hot Tub)