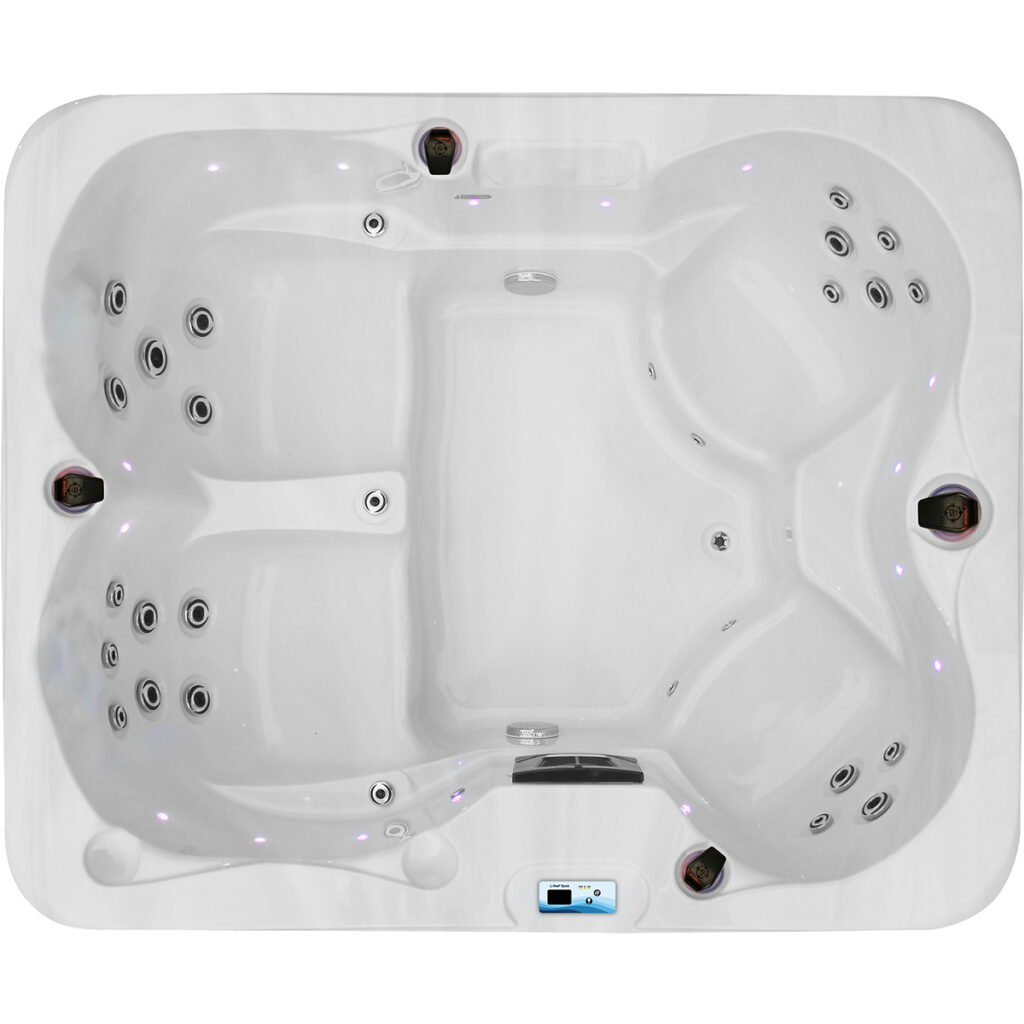 4 people
£5,495.00
170 x 200 x 85 cm
Reef Spa Coral 4 Seater Holiday Let Hot Tub
An intimate hot tub with two deep recliner seats and two shallower seats. This hot tub is ideal for couples, or smaller families perhaps with younger children who will benefit from the seating arrangement. Each of the four seats offer an alternative hydrotherapy jet configuration, giving you a different massage wherever you sit. At 200cm x 170cm x 85cm, the Coral works well in smaller gardens, or where access is a consideration. Looking for something with more seating options? Take a look at our Ocean 6 Seater Holiday Let Tub here.
All our Reef Spa hot tubs are heat pump ready, meaning you can add in a heat pump for super fast (and cheap) water heating, either on delivery or at any stage in the future if you decide to upgrade. You can also benefit from the fast drain manifold which does what it says on the tin and drains your hot tub down fast!  More info about how adding an Energi heat pump will make significant savings on your hot tub running costs here
For the 3D viewer, take a look here, or to experience the quality and size for yourself you are very welcome to visit our Kent hot tub showroom.
Hot Tubs Designed for Holiday Lets
Give your holiday let a competitive edge by installing a low-maintenance Reef Spa holiday let hot tub. Having a hot tub to offer will inevitably increase your bookings, particularly during those quieter winter months – the weather may be cold but your Reef Spa will be toasty warm!
Designed specifically for the holiday let market, these hot tubs have no music (keeping your neighbours happy!), no LED drink pads, no headrests, and no fountains, minimising the amount of cleaning you need to do to stay compliant. They also feature a pared back control panel – with just the 'light' and 'jets' button on display, your guests won't be able to fiddle with the settings.
Happy guests = good reviews = more bookings. Our hot tubs are exceptional in many ways, however, as with all mechanical objects occasionally repairs may be necessary. As a Reef Spa customer you will have access to our dedicated Certified Hot Tub Technician who will be on hand to sort out any issues asap. No waiting for somone from half way across the country to show up. During the summer months we ONLY take on repairs to our own brands of hot tubs, meaning should the worst happen, we'll be on hand to get you back up and running in a jiffy.
Included in the low price is the high quality service you can expect from us. We put our customers first and we are so proud of our 5 star reviews. We're not just another online hot tub retailer; we have been constructing swimming pools and supplying hot tubs for years. So relax safe in the knowledge that should anything go wrong we'll send one of our own Certified Hot Tub Technicians (CHHT)  round to help. Even if you just need a bit more help or guidance.
Experience the quality for yourself at our Kent Hot Tub showroom or Contact Us for more information. Finance available.
Key Features
200cm x 170cm x 85cm
2 Seats & 2 Recliners
29 Pulsar Adjustable Jets
1 x 3HP Massage Pump
13amp Power Supply
High Flow Massage Pumps
Circulation Pump
LED lighting
SpaNet SV1 Mini Topside Controls
Steel Frame Construction
Maintenance Free Cabinet
Ozonator
Black Vinyl Premium Cover
High Tensile Strength Base