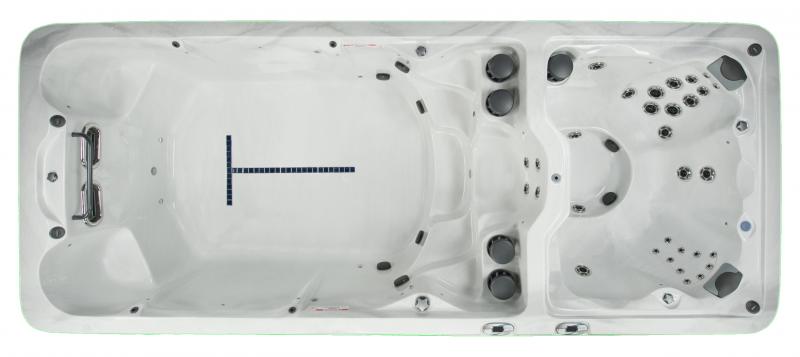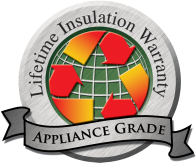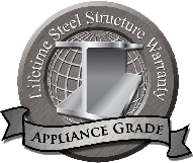 8 people
£34,995.00
554 x 229 x 135 cm
The VM8 dual zone (also known as a twin zone) American swim spa by Vita Spas is *the* one. On the one side you have your swim spa featuring our unrivalled xStream river jet propulsion system for a smooth, powerful current to swim against. On the other side is a separate 5 seater hydrotherapy circuit hot tub to relax and unwind in. What more do you need?
What we love about the VM8 swim spa – it's got to be the dual temperature zones. Keep the swimming side at a comfortable 29 degrees to keep you cool while you work out; put the heat up to 40 degrees on the hot tub side and have those aches and pains massaged away! The VM8 is a best of both worlds 2-in-1 hot tub and swim spa that is a very viable and user friendly option.
The new xStream Force river jet propulsion system uses proprietary 'anti-turbulence' technology to boost and smooth the swim stream for the ultimate swimming and water exercise experience. Anti-turbulence technology creates a powerful, smooth, variable jet stream that is completely adjustable and designed to allow you to swim at your individual fitness level. Add in our aquatic exercise kit for a full body workout!
Included in the low price is the high quality service you can expect from us. We put our customers first and we are so proud of our 5 star reviews. We're not just another online retailer; we have been constructing swimming pools and supplying hot tubs and swim spas for years. So relax safe in the knowledge that should anything go wrong we'll send one of our own engineers round to help in a flash. Even if you just need a bit more help or guidance.
Visit our Kent Swim Spa showroom or contact us for more information. Finance available.
Key Features
8 Spa Seats (5 in separate spa area)
Dual Temperature Zones
4 Pumps
31 Hydrotherapy Jets
2 River Swim Jets
4 Fountains
Wifi Included
MP3/Bluetooth Music
Multi Coloured LED Lights
Copper lined Northern Exposure Insulation
Full Hot Tub Specifications
8 Spa Seats (5 in separate hot tub area)
4x Pumps
2x River Swim Jets
Aurora Cascade Water Feature
State of the Art Touch Screen Controls
MP3 Music with Bluetooth
Subwoofer
Copper lined Northern Exposure Insulation
DuraMAAX™ Cabinet
Freeze Protection
Illuminated Drink Holders
Stainless Steel Jets
Steel Substructure
WiFi Connectivity
Sealed ABS Pan Base
Can be controlled by Vita App
Status Light Indicator