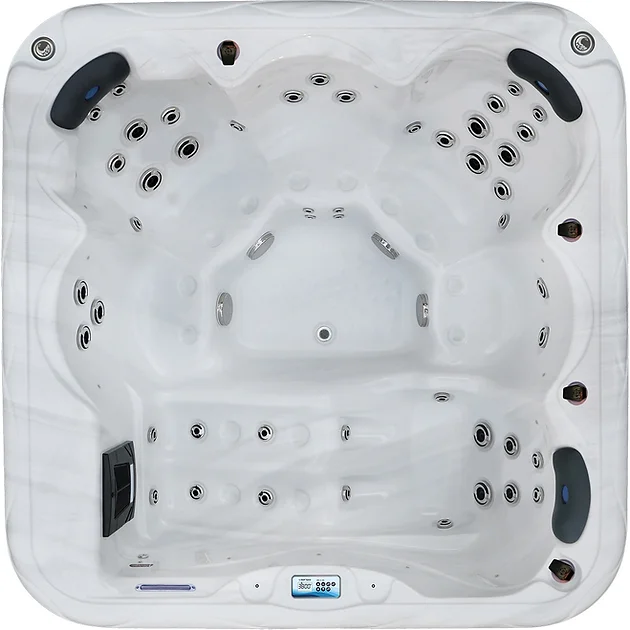 6 people
£6,995.00
200 x 200 x 90 cm
Atauro 6 Seater Hot Tub
We LOVE the Atauro 6 person hot tub, and we think you'll love it too. The Atauro stands out from the crowd thanks to its unique exterior panel LED lighting, syncronised to match the interior lights – something normally only found on top of the range hot tubs rather than one coming in at just £6995! This also syncs up with the LED backlit cascade waterfall, so pop on some tunes via the Bluetooth music system and really make the most of your garden at night. Want to see it in 3D? Take a look here.
This is not just a party tub to impress your family and friends. The lounger and 5 multi-level barrier-free seats are contoured for maximum relaxation and feature 52 pulsar adjustable jets. You have two dual-speed pumps to ramp up the power coming through each of these jets, and you can turn them up and down individually to really customise your massage. Hydrotherapy at it's finest!
At just 2m x 2m, the Atauro 6 seater hot tub with lounger is great for smaller spaces, if you're looking for something a little larger, try our Tinian 6 seater hot tub.
Low Running Costs
All our Reef Spas are heat pump ready with pre-plumbing inside the cabinet. You can easily add in a heat pump (we can do this for you), for very low running costs and very fast heat-up times. If you decide not to go for this option don't worry, our standard heater is already included. Combine this with our outstanding insulation, and you can see why our award winning Reef Spas are so popular with clients looking to keep running costs to a minimum.  More info about how adding an Energi heat pump will make significant savings on your hot tub running costs here.
Included in the low price is the high quality service you can expect from us. We put our customers first and we are so proud of our 5 star reviews. We're not just another online hot tub retailer; we have been constructing swimming pools and supplying hot tubs for years. So relax safe in the knowledge that should anything go wrong we'll send one of our own Certified Hot Tub Technicians (CHHT)  round to help. Even if you just need a bit more help or guidance.
Experience the quality for yourself at our Kent Hot Tub showroom or Contact Us for more information. Finance available.
Key Features
200cm x 200cm x 90cm
5 Seats & 1 lounger
52 Pulsar Adjustable Jets
2 x 3HP High Flow Massage Pumps
1x Circulation Pump
32amp Power Supply
1,360ltr Water Capacity
310kg Empty Weight
Bluetooth™ Music Streaming System
Cascade Fountain
LED lighting
SpaNet SV Mini 2 Topside Controls
Steel Frame Construction
Maintenance Free Cabinet
Ozonator
Black Vinyl Premium Cover
High Tensile Strength Base