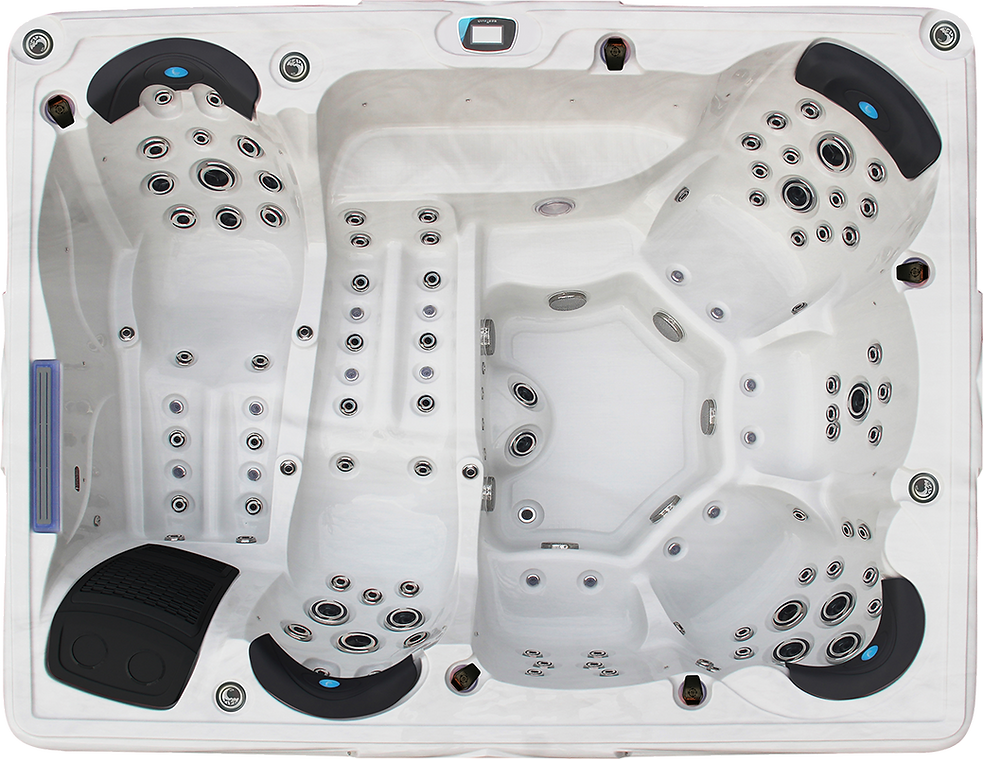 6 people
£14,995.00
280 x 232 x 95 cm
Our largest hot tub in the Reef Spas range; the stunning Ovaka is surely the hot tub you've been dreaming of.
This massive hot tub has two opulent full-size face-face loungers plus four additional sculptured massage seats. If you want a full-power hydrotherapy massage, the Ovaka boasts an incredible 113 adjustable jets in all the right places.
With a stunning cascade waterfall and LED mood lighting throughout, the Ovaka is designed to offer a luxury hot tub experience to remember.
Reef Spas are proud of their great quality construction and insulation; giving you long lasting quality with lowest running costs.
The heat lock system recycles heat generated by the pumps (quite naturally) and traps it into an inner heat layer between the spa shell and the outer wall. A very thick and durable solid ABS base also prevents damp and cold from the floor below. The outer cabinets are constructed with much thicker panels than most other spa brands, which also aides heat entrapment. If you'd like to get your energy bill even lower we can add in an Energi Heat Pump on this hot tub.  More info about how this will make significant savings on your hot tub running costs here.
All Reef Spas are also fitted with a low flow circulation pump which offers a whisper quiet filtration plus a very low running cost; an important issue in today's world.
Visit our Kent Hot tub showroom today to experience the outstanding quality for yourself. Or get to know the Ovaka hot tub inside and out with the 3D and AR viewers available on the Reef Spa website here (opens in new tab).
Key Features
280cm x 232cm x 95cm
97 Pulsar Adjustable Jets
13 Hydrotherapy Air Jets
6 Seats (Incl. 2 lounger)
3 x 3HP Massage Pump
1 x Low Flow Circulation Pump
40amps
570kgs
2,080L
Enhanced Music Streaming System
LED lighting
Touchscreen Topside Controls
Steel Frame Construction
Maintenance Free Cabinet
Ozonator
Black Vinyl Premium Cover
High Tensile Strength Base
Hydrotherapy Air Blower
Cascade Waterfall