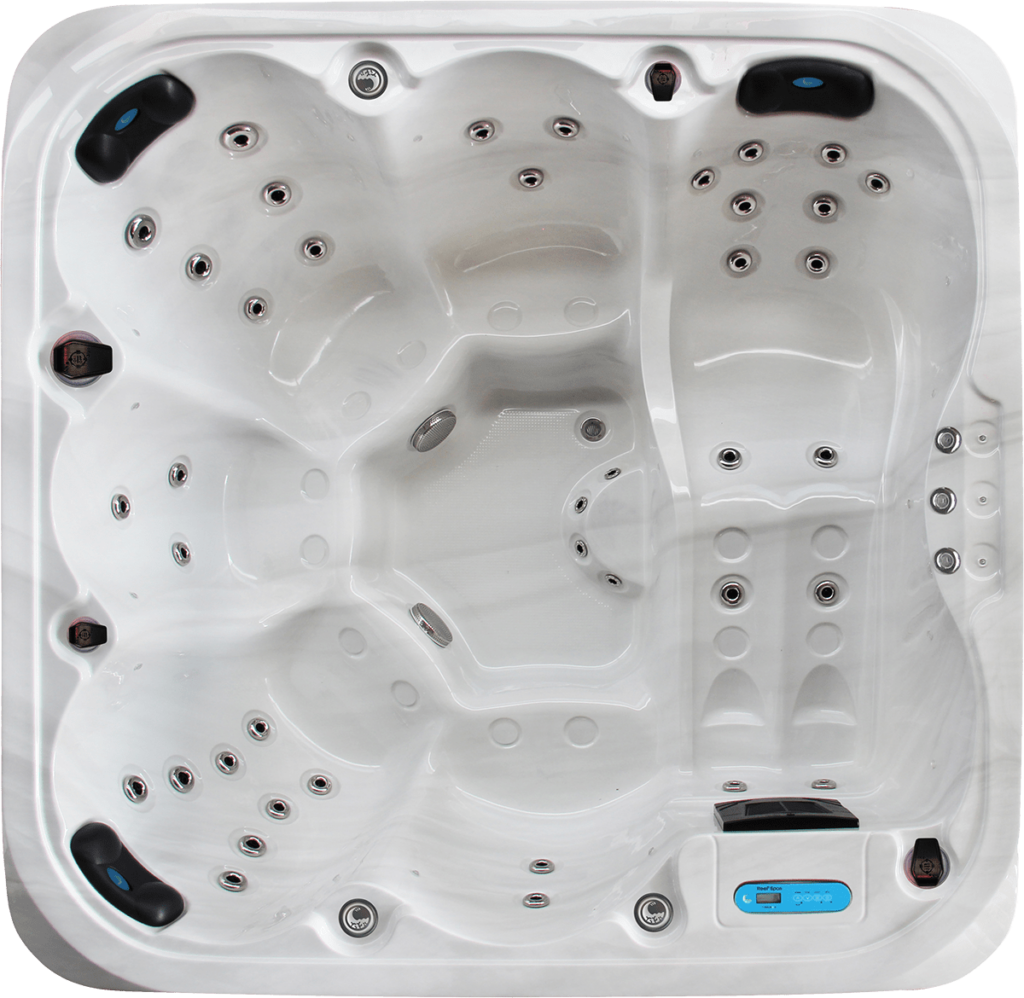 6 people
£5,495.00
200 x 200 x 90 cm
A relaxing lounger plus 5 additional seats make the Futuna the ideal 6 seater hot tub for families on a budget. Featuring a bluetooth sound system, backlit LED waterfall, LED lighting and cupholders the Futuna is a great place to unwind and catch up with the family after a long day.
As with any Reef spa you can rest assured that the smallest details are taken care of. Steel frame construction means the hot tub will last for many many years to come; the circulation pump and ozonator will help keep the water sparklingly clear, and the 40 pulsar adjustable jets will give you a customisable massage. You don't need to worry about running costs either thanks to the quality insulation keeping your Futuna hot tub toasty warm even in the winter months. Furthermore – all our Reef Spas are heat pump ready! More info about how adding an Energi heat pump will make significant savings on your hot tub running costs here
How will this hot tub look in your garden? Find out here on Reef Spa's AR viewer (please note the AR viewer only works on mobiles/tablets). You can also view all Reef spa hot tubs in 3D, and take a tour of the virtual showroom to find the best hot tub to suit your needs.
At 2m x 2m x 90cm this 6 seater hot tub is the perfect size for most families. Looking for something a little bigger? Take a look at the Tinian 6 Seater Hot Tub.
Included in the low price is the high quality service you can expect from us. We put our customers first and we are so proud of our 5 star reviews.
Key Features
200cm x 200cm x 90cm
5 Seats & 1 Lounger
40 Pulsar Adjustable Jets
1 x 3HP Massage Pump
Bluetooth™ Music Streaming System
High Flow Massage Pumps
Pulsar Adjustable Jets
Circulation Pump
Fountain Jets
LED lighting
Topside Controls
Steel Frame Construction
Maintenance Free Cabinet
Ozonator
Black Vinyl Premium Cover
High Tensile Strength Base
13amp Power Supply
1,339ltr Water Capacity
310kg Empty Weight