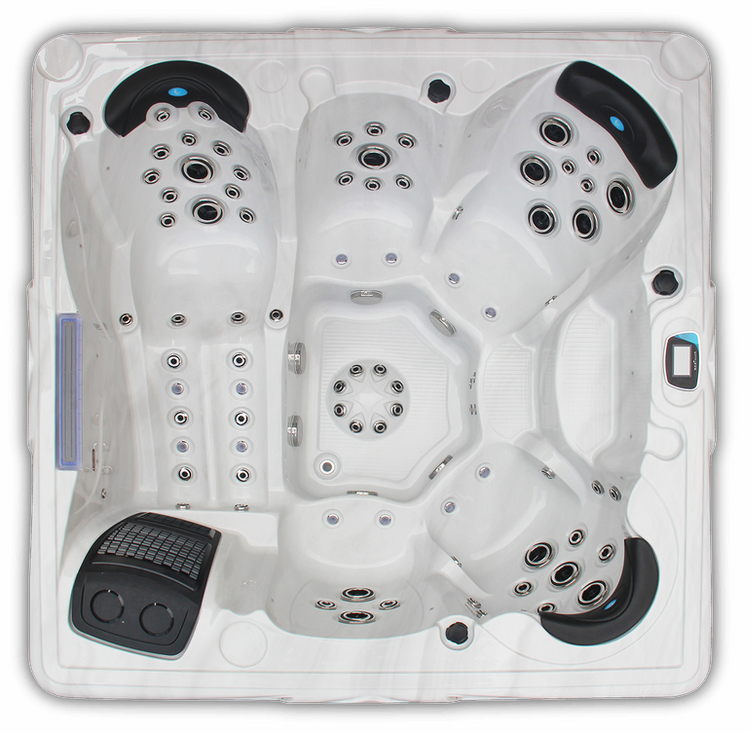 5 people
£11,995.00
230 x 230 x 97 cm






The Maluku is the biggest and most luxurious hot tub in the Reef Spa range. Enjoy each of the sculptured egonomically designed seats in turn, including two luxury captain's chairs and a lounger. While the 87 well placed massage jets powered by three 3HP pumps provide outstanding hydrotherapy.
Our favourite feature on this top of the range hot tub has got to be the lighting system. Not only do you have the internal LED lights, you also have integrated panel LED lighting; it really does have the WOW factor!
Your Maluku luxury hot tub is powered by the incredibly user friendly Balboa touchscreen controls, and music is included as standard with the Balboa Bluetooth Audio System. The ozonator will help to keep the water sparklingly clear, leaving you free to enjoy your hot tub.
Included in the low price is the high quality service you can expect from us. We put our customers first and we are so proud of our 5 star reviews. We're not just another online hot tub retailer; we have been constructing swimming pools and supplying hot tubs for years. So relax safe in the knowledge that should anything go wrong we'll send one of our own engineers round to help in a flash. Even if you just need a bit more help or guidance.
Experience the quality for yourself and try the incredible Maluku at our Kent Hot Tub showroom, or contact Us for more information. Interest free finance available.
Key Features
Two Captains Chairs
Lounger
Bluetooth Stereo System
3x 3HP High Flow Pump
87 Pulsar Adjustable Jets
Balboa Touch Screen Controls
Multi-point LED lighting with LED Pillows
Integrated LED Panel Lighting
Eco Low Flow Filtration System
Cascade Waterfall
Steel Frame Construction
High Tensile Strength Base
Maintenance Free Cabinet
Ozonator
Black Vinyl Premium Cover
2 Year Warranty
40 amp Power Supply